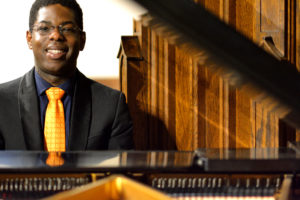 Award-winning Canadian pianist Luke Welch was born in Toronto, Ontario, Canada and grew up nearby in Mississauga. He played his first public performance at age seven, and his early private piano teachers include Kyzysztof Jedrysik, Catherine Kuzeljevich, and John-Paul Bracey.  He later graduated from Western University in Canada with Bachelor and Master of Music degrees and completed additional graduate studies in Rotterdam, the Netherlands.
Welch has also participated in the classes of Jean-Bernard Pommier, Cecile Ousset, Dang Thai Son, Stephane Lemelin, André Laplante.  He has performed extensively on the international stage including appearances in Canada, United States of America, the Netherlands, Germany, Belgium, France, Italy, England, Ireland, Scotland, Wales, and New Zealand.
Highlight performances include recitals at Beethoven Haus in Bonn, Germany, St. Giles' Cathedral in Edinburgh, St. Martin-in-the-Fields in London, and Castletown House in Ireland.  He has also appeared at St. Andrew's-on-the-Terrace in Wellington (New Zealand), Music Mondays in Toronto, the American Cathedral in Paris, Waalse Kerk in Breda (Netherlands), and Geelvinck Muziek Museum in Zutphen (Netherlands).
Welch made his debut as soloist with Durham Chamber Orchestra in Toronto and has since collaborated with a number of orchestras including the Windsor Symphony Orchestra, Mumbles Symphony Orchestra, Winchmore String Orchestra, Greenway Strings, York Chamber Ensemble, and Oakville Symphony Youth Orchestra.
In addition to his performance commitments, he has also been highly sought after as an interdisciplinary collaborative pianist.  He has worked closely with a number of renowned international academies and companies including Nederlands Dans Theater (NDT), Scapino Ballet Rotterdam, Dans Ateliers, Holland Dance Festival, Codarts Rotterdam Conservatory, Royal Conservatory of the Hague, Dutch National Ballet, and National Ballet of Canada.
Welch's recordings have international received critical acclaim, and his performances have been broadcast on CBC Radio, WQXR-FM in New York, WXXI in Rochester, KING-FM in Seattle, and Radio Classique.  His most recent album, 'Samuel Coleridge-Taylor: Piano Works' has also been featured as CBC In Concert's Album of the Week.
In addition to his published writing in the Globe and Mail (including 'Life as  Black Classical Pianist', and 'Black sopranos Othalie Graham, Audrey Dubois Harris and Measha Brueggergosman on inclusion and Black Lives Matter'), La Scena Musicale Magazine, and WholeNote Magazine, he was named the 2018 recipient of the Harry Jerome Arts Award – distinguished with national recognition by the Black Business and Professional Association.
Welch has taught in both Canada and Europe, and was appointed to the Faculty of Piano at the Royal Conservatory of Music Oscar Peterson Program in 2022.