Now that the new album is released, and the concert dates are set, the next live performance encounter is only a couple of days away – this time in Bonn, Germany!   I have been extremely fortunate to visit this exquisite city in the past, first as a tourist and later by fulfilling a concert pianist's dream of playing in Beethoven Haus – the preserved iconic birthplace of the immortal composer.  This delightful hometown of Ludwig van Beethoven is steeped in heritage, cultural history, and is also surprisingly equipped with an appealing range of restaurants, shops, and attractions.
Such motivations, to either return to a place I always have previously enjoyed visiting or by venturing into a new country for the first time, has always been extremely appealing to me.  Not only is it an indescribable feeling to be standing in a place you have only seen on television or read about in a textbook, but a humbling sentiment also resonates to receive invitations from faraway lands.  When the condition of performing is involved, however, it always tends to provoke my entire emotional spectrum.  It's an undeniably heartwarming feeling to receive such a proposal, though when there are breaks in the schedule between performances it seems to create a two-pronged effect.
In one instance, it can be highly beneficial to have some time off stage – a moment to reflect, recover, learn new repertoire, and touch-up the current program with fresh ideas.  The counter-argument that often presents itself, however, is the potential loss of overall flow and "performance sharpness" which can make maximizing stage capacities increasingly more difficult.  For a precious few, speaking or presenting in front of an audience has always in and of itself felt like a source of comfort and simply a matter of getting back on the proverbial bicycle – no matter how long between performances.  For other like me, both the concept and practice of being on stage presents an unquantifiable intrigue; yet at the same time a daunting and at times slightly intimidating balancing act of emotion and self-awareness.  Straightforward enough, right?  Well…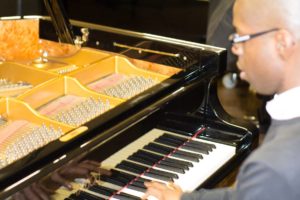 How does a performance artist react to extended breaks in the schedule?  When preparing to present a new work for the first time in front of an audience, how do we know it is truly "ready" for public consumption?  In my case – some situations trigger this rationale more often than others – I usually tap into my experience, delving into flashbacks of previous likewise circumstances while also anticipating the impending task at hand.  This mindset generally involves keeping an even keel by reminding myself that I've done it before, while also reminding myself of this precious opportunity to share with a group of people who have taken the time to show up. Sometimes the situation may also involve new repertoire (nerves can inevitably be particularly edgy when performing new material for the first time!), venue, crowd size, instrument, etc., but somehow it's easier to enjoy the experience knowing the task has been completed before – provided the practice and preparation has been put in.  For me performing becomes more natural, and the pre-concert anticipation and expectations easier to embrace, during the concentrated portions of the schedule.  The preparation for each event shifts from routine to borderline ritualistic.
Ultimately, there's no way around it – the show must go on!  There is actually comfort in knowing that everyone else gathered in that venue is ready to enjoy themselves, hopefully as much or more than I do, so it really then becomes a matter of getting the audience to understand who I am as a (musical) entity.  When I am personally "locked in", or in the groove of an active mid-season concert schedule, my primary task can shift away from focusing entirely on technical execution to maximizing an opportunity to engaging with a group of people and serving as a messenger of some of the greatest music ever created.
Thanks for reading!
———
Until next time, please leave your comments below and be sure to get your copy of the highly anticipated new Scarlatti album available here.