June 2, 2023

Luke Welch continues the interprovincial Canadian album release tour featuring his new recording 'Samuel Coleridge-Taylor: Piano Works' which began with a historic performance in Toronto, then continued with appearances in Montreal, Quebec and Kitchener, Ontario. The series continues West with a visit to Manitoba on Thursday, June 8, 2023 for a recital at Carman United Church. Hosted by the Golden Prairie Arts Council, this concert begins at 7:30 pm with a limited amount of individual adult tickets still available, as well as specially priced individual youth tickets. Be sure to book early, as seating is likely to be sold out for this one-night-only performance in Manitoba.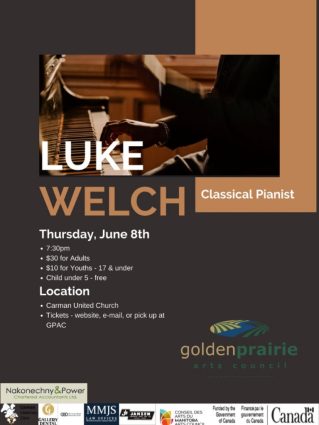 The following Sunday, June 11th will see Luke Welch travel to Vancouver Island for a return to Chemainus Classical Concerts. This performance represents the second appearance for Welch in this series, which begins at 2:00 pm and will feature a program of works by Samuel Coleridge-Taylor and Frederic Chopin – two iconic composers whose respective nationalistic and cultural identities shine through their timeless music.
The West Coast tour concludes with two performances at the Silk Purse Arts Centre in West Vancouver on Tuesday, June 13. The first performance begins at 10:30 am, with a second afternoon performance commencing at 1:30 pm. Both events will feature a program of Samuel Coleridge-Taylor's solo piano works, highlighting the brilliance, ingenuity, and creativity of the Anglo-African composer.