The change of calendars and bubbling of champagne signifies the beginning of a new year with renewed energy and optimism and provides an ideal time to both reflect on memorable moments recently gone by and look forward to what lies ahead. 2016, though, was a tough year with the passing of so many great artists and individuals who will no doubt continue inspire us well beyond their years who provided many positive and exciting occasions. It certainly proved to be a very active year musically, with intriguing travel schedules around Europe, Britain, and some sojourns across the big pond back home to Canada.
I find it funny and entirely fascinating how relationships with places – particularly specific cities – can develop over time. It was way back in high school that I had my first opportunity to visit Montreal, Quebec. It is not only one of Canada's most vibrant and electrifying cities, but a place I would certainly argue is one of the best in the world! My first trip there was as a young teen, representing my high school as a Greco-Roman wrestler – (yes, this actually is true. As an aside, I was on the baseball, basketball, [American] football, and wrestling teams of my high school…). Several years later, in my graduating year, I went back to Montreal to do a piano audition for their bachelor program at McGill University – it was incidentally the year following their 11-day mid-winter ice storm that literally froze the entire city into temporary paralysis. Yikes!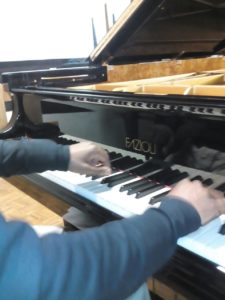 Flash forward to February 2016 and off I went again, this time with an invitation to perform at Christ Church Cathedral's L'Oasis Musicale concert series. It turned into an incredible road trip, accompanied by two of the greatest companions a guy could ever ask for, as it provided the perfect occasion to spend a sunny but brisk weekend in Quebec's largest city and also play for a delightful audience. Besides, to make matters even more enticing was a visit to Ottawa shortly thereafter. Canada's capital city is a modest distance from where I grew up in the Greater Toronto Area, and even further still from where I went to university in London (Ontario), so it was never really possible for me to become well acquainted with Ottawa. This time, with many thanks to the talented organist and concert promoter Fabien who I look forward to meeting again this spring, I made my first visit to Trinity Anglican Church for a recital while also capitalizing on the opportunity to get to know the beautiful town much better. With Ottawa's proud political undertones (and overtones), in addition to its rich artistic presence and cultural diversity, all combined with the ultimate fusion of Canada's two official languages it collectively makes for a very impressive environment!
Next was a trip back to Britain for two recitals, this time in London – another of my favourite world capitals which also happens to be a place that I have been known to frequent whenever possible. (It was highlighted with a stay in the infamous Notting Hill district – definitely an area worth visiting if you're in town!) A short while later I caught a flight to Dublin to visit the historic Castletown House, and after two (!) more visits back to Canada, the year capped off with a visit to….you guessed it: London, England! Thank you St. George's Beckenham, Philip Gibson and Winchmore String Orchestra for ending the year on a high note!
I am very excited for what's on the radar in 2017. It won't be long now before the whispers surrounding the second album crescendo into clearly audible. To be honest, saying that I am extremely brimming with excitement in anticipation about this recording would be the understatement of this brand new year! This year is set to be filled with all sorts of amazing projects and concerts including my first professional visit to Belgium early in the spring, followed by a trip back to Beethoven's hometown Bonn, Germany. After that, it's time to pack the bigger suitcase for a multi-week visit to Ontario at the beginning of May, and my first visit to Western Canada coming up later in the year. I suppose, when you stop and think about it, time really seems to speed up and the years seem to fly by at a faster rate each cycle – though constant targets, goals, and dates seem to and other extremely intriguing possibilities that I can't wait to share at the right moment. So now seems like the perfect time to crack the knuckles (figuratively speaking, of course!), shake off the festive lethargy, and open the scores!
P.s. – check back soon, there's another blog on its way!