When I take a moment to reflect on my time living as an expat Canadian in the Netherlands, it's been incredible to consider how many valuable lessons I've learned.  At first, while studying at the conservatory, the mission objective was to absorb the practical and theoretical necessities of becoming a prospective professional musician while in an academic environment, and since graduating it has been a matter of appreciating the seldom-acknowledged behind-the-scenes grind of engaging the international concert platform.  The image I see often refracts like a prism, considering the balance of a regular work schedule in addition to going on stage. 
One of the metaphoric prism fragments involves teaching, which in earlier years was something I vowed to avoid like the plague.  Though pedagogy been actually turned out to be nothing shy of a blessing and revelation, another cap I wear reads: 'Collaborative pianist' –  in this case for dance (primarily ballet) academic/training classes and performance.  Having the opportunity to immerse in the interdisciplinary arts with dancers is an indescribable experience.  The lilts and nuances, combined with coordination, physical exertion, and (ideally!) an emotional connection create unspoken magic in and of itself.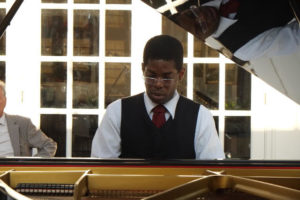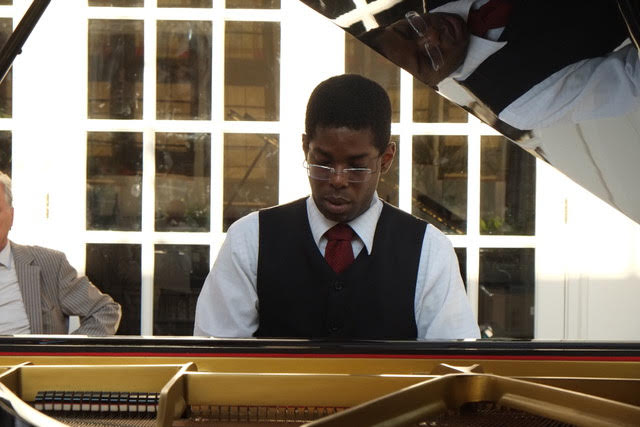 As I first entered this world of dance arts, it quickly became a matter of creating secret independent projects – understanding the true meaning and value of breathing both literally and musically (phrases are also a huge part of dance, so to understand and always "feel" the natural pulse and sense of time/space could be of breakthrough proportions), collaboration, and collectively charged energy/expression.  Each such occasion requires motivated individuals who are honing their technical skills while simultaneously developing the ability to communicate with an audience.  I learned early in my training as a repetiteur pianist that it is imperative to establish an unspoken connection with the group as quickly as possible – it could, in fact, make or break the entire class or performance if not done soon enough.  I figured it may be worth considering trying to actively create and build this same type of energy with an audience – for me, a refreshingly modified strategy than going out there to knock their socks off!
Let's be honest it's easy to walk right into the – (trap would be too strong of a word) – rat race, though room of smoke-and-mirrors may be a more appropriate designation.  We spend an incredible amount of time refining our skills, pushing our individual abilities to the extreme, and constantly aspire to be like our heroes and mentors.  It so often then becomes a matter of showing "what we're capable of" which inevitably leads to superfluous technical bedazzlement and wizardry.  As is so often the case, the repertoire we choose is based on how much those compositions will allow for opportunities to a) push our technique to its limits or b) altogether show it off. 
As a student honing his craft, the primary focus for me became a matter of acquiring and developing the tools necessary to reach the professional level, while understanding the difficulty, but necessity, of consistency.  This enormous undertaking usually requires endlessly dedicated hours of scales, arpeggios, etudes, and overall building of technique while simultaneously familiarizing with and playing as much of the vast repertoire available as humanly possible.  Studying for me also included listening to countless hours of recordings, attending concerts, and research.  Ideally, these labours often prove to be fruitful, which generally comes in the form of budding technical prowess and command of the instrument.   With the practice hours logged, private lessons and masterclasses learned from, it's time to hit the stage!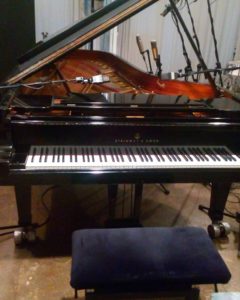 Self-reflection, however, presents itself as a key ingredient in each and every performance.  Though I dare not speak on behalf of all professional musicians, in my own experience the transition from student to professional seems to be the most difficult and daunting period in a musician's career.  We have spent the duration of our career – up to that moment – being guided and nurtured by a private teacher, music institution, and likely student distinction and perks.  The individuals who surround us in this academic bubble represent our ears as we continue to develop.  There's a tendency to dwell and correct the things we do wrong, or could at very least improve upon, and in many cases of technical basis so it becomes rather easy and increasingly likely to lose focus on the task at hand.
How often in my experience with the dance community have I seen a supremely talented dancer, eyeballs locked on the mirror every stride of the way to the middle of the dance floor, execute a series of pirouettes (or some other impressive combination) before gracefully sauntering off to the corner for a sip of water (again, never breaking sight of the mirror!)?  "What on earth is this obsession with mirrors?", I always used to rhetorically jest but finally sincerely outright asked one day. Without hesitation, the response I got was "sometimes what you think you're doing, or how well you think you're pulling something off may not actually be the reality of the situation.  The mirror is our audience looking back at us and it doesn't lie…".
For musicians, one big "mirror" is the recording device which also doesn't manipulate the truth since it's so easy for the performer to believe that our output is exactly how we imagined.  One of the lesser used, or at very least underappreciated, key tools in the kit is our ears.  The musical paradox is perplexing: possessing the ability to hear yourself through the ears of an objective listener seated somewhere in the upper balcony of a concert venue, wile in actuality being the performer on stage.  Being in two places at the same time by assuming the role of two separate individuals – with entirely opposing roles – requires a bending of the mind that borders on the inexplicable.  These sentiments may at first seem ludicrous or impossible, though the concept is rather simple and its fundamental understanding often proves rewarding. 
For my own performances I tend to carefully select repertoire with audience appeal, both individual works and full programmes – and by appeal I don't necessarily mean pyrotechnics on the keyboard but rather selections of music they can comfortably sit through for an hour or two without their ears bleeding from sheer volume or brain melt from notation overload.  I even have friends and colleagues who make requests for composers or pieces that they like, or think would fit well with my playing style, so I often tend to include those pieces too!   As a pianist who happen to pleasantly stumble into the art of dance, I appreciate now more than ever the beautiful common thread within the mesmerizing prism to project as beacons of indescribable purity, sincerity, and undeniable emotional connectivity.
Until next time, thanks for reading!